The Restaurant of the Future: What It Looks Like?
12 September, 2019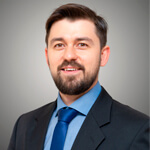 Vitaliy Zhovtyuk
CEO / Managing Director
& Founder
The digital revolution in the restaurant industry is already here. Today's customers expect flawless guest experience across multiple channels. Winning restaurants will be the ones who implement new technologies into their services and surprise customers by creating more personalized offers.
Wondering what the current global tech trends are in the restaurant industry? In this article, we're going to show in detail some trends presented at the National Restaurant Association Show 2019 (NRA Show), one of the largest gathering of restaurant and foodservice experts. The NRA Show is a perfect place to explore everything that's happening in the industry and learn more about forward-thinking trends that can help you stay on the winning track.
So, here are statistics from one of the NRA Show expert sessions:
71% of visitors would like to be able to order takeaway;

52% of guests expect free WiFi in a restaurant;

47% of customers prefer to pre-order by phone;

78% of millennials are checking a menu online when selecting a restaurant for the first time;

32% of millennials already use Apple Pay and Google Pay.
All this suggests that the next-generation customers opt for technological effectiveness and are looking for a place that can meet their demands. They value comfort and flexibility and expect client-oriented service around every corner.
Creating the next-generation guest experience: global trends
How can the restaurants hit the spot? Successful restaurant brands recognize the needs of their guests, focus on analytics, and attract customers in a highly personalized way. Investing in digital improvements can have a tremendous impact on increasing the average check size as well as enhancing dining frequence, customer loyalty, and conversion.
To create the restaurant of the future, brands should pay attention to the following aspects:
Delivery and takeaway food
The culture of food delivery and online ordering is rapidly growing. According to investments bank UBS, online food ordering sales could grow an annual average of more than 20% to $365 billion around the world by 2030. Deloitte says that 40% of consumers prefer to order online. At the same time, the National Restaurant Association's statistic shows that 44% of diners who place a food order for takeout or delivery using a restaurant app or website.
So what does this all mean? Consumers don't want to spend much time at the actual restaurants anymore. They're looking for new options to order food online with ease and get it quickly in the most convenient way. That's why services and apps like Delivery.com, Uber Eats, and Caviar are so popular in the food industry all around the world. The most significant player in the online food delivery market in Germany is Lieferando.
The number of orders from virtual restaurants, which removes the option of dining in a restaurant, is also increasing. The new dining concept is food hubs — multiple restaurants under one roof. They take orders and deliver them to customers by the autonomous delivery cars.
Quick reservations
Smartphones are a fundamental part of our daily routine which makes a lot of tasks much more manageable. Now, we no longer need to call a restaurant to reserve a table, as we can do that with just a few clicks.
While many restaurants have their owns apps for online reservations, it seems like the future belongs to third party services. Generally, they offer a comprehensive approach allowing users not only to book a table but also read reviews from other dinners, earn rewards, etc.
Statistics say that over 60% of visitors in the US reserve tables in advance through online services, such as OpenTable. What about the German market, Quandoo is the most popular option here, but many startups are ready to compete with it.
Payment methods
More and more diners prefer to pay at the restaurant via mobile apps. They no longer want to wait for waitstaff to bring the check and hand over their credit card to a stranger. Luckily, new technologies let users get and pay their restaurant check whenever they want.
Several years ago, cashless payments were all about using a card in a store or making payments online. Today, users can pay via Apple Pay, Google Pay, or special apps right from their smartphones. More than 5,000 restaurants in the US allow online payments for orders through the TabbedOut app.
Customer analytics
In the digital era, it's crucial for business success to know the customers' feedback on provided services. Analysis of customer behavior is also essential for almost every process that takes place in the restaurant.
Now, brands have an automatiс system that allows visitors to complete a short questionnaire before leaving the restaurant and provides owners with accurate data on the customer satisfaction rate.
So, what's next?
Are you ready to transform your restaurant into the restaurant of the future? Customers will likely opt for the service that focuses on improving the guest experience.
They're looking for restaurants that make ordering and payment processes more accessible and provide more flexible takeout and delivery options with the help of new technologies. To stay ahead of the curve, entrepreneurs worldwide should keep up with modern trends and invest wisely in operations, marketing, digital, and technology.
Tell us about your project