Industry 4.0: How to Revolutionize Your Business
14 March, 2019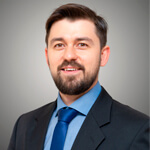 Vitaliy Zhovtyuk
CEO / Managing Director
& Founder
Many companies have already enjoyed the benefits of implementing technology into their daily business processes. When it comes to improving productivity and increasing customer satisfaction, digital technology is a game changer. Is your business ready for a new industrial revolution? Applied Methods is here to show you how Industry 4.0 can help your company succeed.
Over the last two decades, the world of e-commerce was transformed dramatically. Many new trends and tools have appeared in the modern marketplace. And these innovations are going to be replaced in the near future by others tend to be more cost-effective and suitable for rapidly changing business needs.
Technologies such as autonomous robots, clouds, drones, and 3D printers have already changed the world of e-commerce. Thanks to the digitalization of manufacturing, we're in the midst of a global transformation of product development. This transformation is so compelling that it's being called Industry 4.0 to represent the fourth industrial revolution that has occupied the world.
But what does this mean for your business? In this article, we're going to show you the reasons why Industry 4.0 can help your business grow and how to be prepared for these changes.
Welcome to Industry 4.0
The first industrial revolution changed the world of manufacturing once and for all. Starting in the late 1700s, it was revolving around mechanization. The second revolution was all about mass production, assembly lines and electricity.
To meet new market demand, the third era of industrial revolution focused on IT technology and automation. During this period, machines began to replace human workers on the assembly lines and enhance the quality of mass-production.
Today, we enter Industry 4.0 or the fourth industrial revolution that is a whole new transformation of manufacturing and supply. Using technologies such as artificial intelligence, sensors, augmented and virtual reality allows companies across the world make a production process more flexible and responsive to customers.
Computers and automation come together in an absolutely new way. Internet of Things (IoT) is renovating and reaching out not only businesses but almost all spheres of our lives: from smart homes to self-driving cars.
Now businesses have all necessary tools to create 'smart factories' and track every stage of a production process in real time. In manufacturing industries, one of the fastest growing technologies is the use of 3D printing. For instance, German manufacturer Adidas reestablished a factory in its home country by reinforcing it with innovative machines including 3D printers.
Why you should invest in Industry 4.0
Increased automation is an effective solution for those companies that want to keep up with customers demands and outperform competitors. But not everyone takes full advantage of the opportunity.
According to Infosys, 85% of manufacturing companies realize the potential of advanced technologies. However, only 15% of surveyed enterprises have already developed powerful strategies in place.
In today's industrial environment, you need to implement new technologies into your business processes to get ahead. Industry 4.0 has many benefits, and there is only a part of them:
increased productivity
lower operation costs
scalability
improved customer experience
customization
more control and visibility
The level of competition in the e-commerce industry continues to grow, and the only way to succeed is to stay in tune with new developments. Here at Applied Methods, we can help you start your digital transformation journey to Industry 4.0 right away. Just tell us about your business, and we'll find the best solution to meet your needs.
7 Tips on how to get ready for Industry 4.0
The huge impact of technology on the future of industries such as e-commerce, manufacturing and IT is undeniable. The biggest challenge for traditional enterprises is to change their culture and adapt all business processes to the new reality of Industry 4.0.
But how can a company that has not yet involved in technology get ready for changes? We've prepared a list of top 7 tips to help you get started:
Don't wait
While you're sitting tight, your competitors may have already started their journey to digital transformation. Trying to avoid innovations brought by the fourth industrial revolution is just a technological ignorance. As new technologies are rapidly being developed, staying abreast of them is crucial for your business success.
And the wait-and-see method is ineffective in such a progressive environment. Passivity will never turn you into a leader. And being a follower who is trailing far behind is not your goal, right?
Identify the opportunities
Analyze your business processes across the entire enterprise and identify weak points. Find out where your resources are stretched when it comes to reacting to demand.
Have problems with taking products to market? Think about new tools you can implement to speed up the process. Prioritize your greatest challenges and study how analytics, IoT, cloud or other innovations can fit into your business strategy. And remember that sweeping changes could be overwhelming, so start your journey with small steps.
Have a test run
Before applying new technology, don't forget to give it a try, especially, if it's expensive. Keep in mind that not all innovative tools come with a guarantee of perfection, so take time to evaluate its performance before purchasing it. Consider whether the chosen technology provides a practical solution for your business or not.
Train your team and hire experts
New technology constantly changes the marketplace, and your team has to know how to use it effectively. Make sure your staff is adequately trained to keep abreast of the developments. However, the use of some new tools requires special knowledge and high qualification. Hiring a certified expert is a way out of this situation.
Keep improving
Industry 4.0 has already brought a lot to business development. But it's not the end. That's why a successful business needs to stay both flexible and agile. And staying ahead requires much more than just purchasing necessary tools or software once and for all. If you want to remain competitive, keep on top of the newly-designed devices and tools.
Have an innovative mindset
Strong businesses can develop creative thinking that allows them to create connections across technologies and solve real-world problems. Challenge your team to view issues from various perspectives, solve them and make strategic decisions via data and advanced tech. Innovative mindset is all about researching and testing, trying and failing, sharing and developing based on other people's findings.
Find a reliable partner
Integrating digital technology into your business can take time and effort. Working with the right vendor that understands your industry and can provide you with the best practice on your way to Industry 4.0 is key to success.
Applied Methods GmbH can analyze your business processes and find the best digital transformation solutions according to your company's needs and budget. Just fill in a brief, and we'll contact you as soon as possible.
Tell us about your project