How to Grow a Business with the Digital Experience Platform
11 February, 2019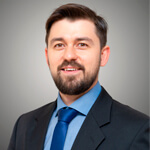 Vitaliy Zhovtyuk
CEO / Managing Director
& Founder
Digital Experience Platform is a practical solution to personalized, deliver, and operate digital experiences across every stage of the customer lifecycle. Find out more about DXP and how it can help increase clients loyalty and improve your business growth.
According to Gartner, the world's leading research and advisory company, more than half of the examined companies owned at least two web content management (WCM) solutions. This statistic reveals one of the most significant issues in the modern digital business — a lot of companies waste their time and efforts trying to combine solutions that weren't intended to work together.
Generally, companies manage these solutions with different processes. That makes the situation even worse. No doubt, it's a challenging task to move forward with business development when you go through the expenses of syncing up data across various systems and integrating needed software.
A better understanding of customers needs plays a critical part in establishing business processes. Using an appropriate platform can provide a company with an accurate customer data gathered from different touchpoints. As a result, a business can use this information to enhance customer experience across used channels.
Main challenge of digital business
Our world becomes more and more digital year after year. In such a quickly transforming environment, digital customer experience gives new opportunities for business growth. On the other hand, with these opportunities brings difficulties in producing and operating touchpoints as well as delivering effective services across different channels in a satisfying for customers way.
Harvard Business Review shows that clients consider digital experience as a mosaic in which all components or channels must lead to one picture — positive brand image. But on their way to achieving this goal, companies are running a risk of losing that exclusive image. The critical issue is that channels are growing at an exponential rate so that yesterday's software is unable to keep up with the amount of captured data.
But what's the solution?
There is an answer to the problem with fragmented systems and weak data management. Increasing number of customer touchpoints, applications, and digital interactions requires a new technology architecture — digital experience platform.
According to the Forester, digital experience platform or DXP is:
"Software to operate, deliver, and optimize digital experiences systematically across every stage of the customer lifecycle."
Gartner also defines DXP as:
"A rationalized, integrated set of components on which websites, portal sites, and mobile apps can be built, deployed and continually improved. A DXP provides a stable foundation for engagement and interaction with audiences, be they partners, employees, customers, citizens or students."
More specifically, the digital experience platform can be described as:
A software platform to develop and manage personalized, integrated and content-rich customers experience across various channels, touchpoints and devices at all stages of the customer lifecycle to satisfy customer needs, motivate them to action, and enable a company to stand out in a highly competitive market. It also allows developers to use modern web technologies in order to build rich and interactive web experience.
With the tailored-made platform, companies can provide their clients with a better experience by giving them quick access to the required information on any channel. In other words, the digital experience platform is all about finding the best method of meeting customers needs across different channels in the most effective ways.
Digital experience platform: how it influences your customers
Today, the digital experience platforms include customer-facing access that is not limited by the web browser. It expands into the real life of customers — from personalized mobile access via an application to the Internet of Things.
In fact, companies can collect information from new as well as previously unmanaged channels and analyze these insights to make decisions on new products and services. This will empower them to improve business processes and deliver exceptional customer experience overall.
With the customer at the center, the digital experience platform allows to:
Build, coordinate, and improve websites, portals, mobile applications and other channels of digital interaction
Manage customer data, content and core services to deliver exceptional experience for a business benefit
Provide clients with unified access to relevant information
Combine e-commerce, marketing, and service processes to improve workflows
Support a wide range of communities: employees, partners, customers, etc.
Share front-end code across different touchpoints to provide a common user experience
As you can see, DXP gives companies an opportunity to overcome the challenge of operating the touchpoints and information they bring in. It's opening new doors in company-customer relationships that can drive future innovation and business growth.
Choose your perfect DXP
The rapidly growing demand for customized experience creates the great need of useful digital experience platform technologies. Businesses are searching for a platform that can unify customer experiences across different devices and control various channels of communication at once. Nowadays, owning the right DXP is what companies should seek to include in their current digital strategies.
To choose your perfect digital experience platform, you need to understand your customer needs and implement the platform around them. If users can access your company via whatever touchpoint works best for them, they'll get the reason to trust your brand. You'll make customers lives more comfortable and, as a result, increase their loyalty.
Tell us about your project