Key Benefits of Digital Experience Platform for Your Marketing Department
27 November, 2018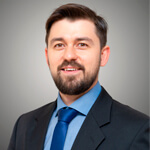 Vitaliy Zhovtyuk
CEO / Managing Director
& Founder
Digital transformation brings new challenges for companies worldwide. How to engage with users on a global scale? How to provide personalized digital experience in every stage of customer journey across all new digital touchpoints?
Today, making every process customer-centric is more than just a modern trend. In fact, it's a driving force of successful digital transformation. Earley Information Science report shows that 88% of the companies are involved in a formal digitalization. But only 25% of them have a clear understanding of their customers needs.
According to the Harvard Business Review when users have unsatisfied online experience, they fault the brand right away. Customers expect to come away with a positive image of a company's product or service, even if their interaction with a brand is limited to one or several channels.
With technology development and rapidly-growing demand for personalized and consistent digital experience across various channels, companies have to work in increasingly challenging landscapes. The main difficulty is that touchpoints are multiplying enormously in a way which yesterday's software solutions can't manage properly.
The amount of data is growing. Because of poor data management and fragmented systems, businesses run a risk of losing unique brand identity as well as reducing revenue, retention, and lifetime loyalty.
So what's the solution?
A digital experience platform enables companies to engage users at all touchpoints throughout a customer journey in a more effective way. In fact, DXP is a collection of technologies for creating and managing digital experience delivered to clients and employees. Implementing the right platform can provide a unified view by gathering information from different channels and, as a result, help companies offer a better experience through the lifecycle of a customer relationship.
DXPs are created for businesses that realize the significance of bringing together all possible touchpoints and data in a way that can be shared across the board. Apart from digital experience and engagement, DXP can also considerably improve departmental coordination, reduce costs, and fewer customer service calls.
Let's see how DXP can improve business processes in your marketing department.
5 main advantages of DXP
Rich experience with touchpoint optimization
Digital experience platform provides comprehensive optimization across all available touchpoints and ensures personalized experience through customer interactions. How can DXP do that? First of all, it allows enterprises to track and analyze customers behavior at each touchpoint and identify users needs by profiling and data prediction in real time. This leads to a faster and more effective customer journey.
With access to a higher number of channels with customer information, a digital experience platform empowers companies to get new insights. DXP puts a received data in one place where any company's department can use it. This guarantees that the entire team is working with updated information and making business-critical decisions based on accurate facts.
Holistic visibility of customer data
DXP brings together all digital channels with the internal operational systems. This breaks barriers created by apps and unit silos and allows effective gathering, processing, and profiling of customers data.
By providing insights on clients activities across all devices, digital experience platform helps create a highly personalized experience based on the context (location, timing, etc.), interaction history, preferences, and other factors. So when customer support has to deal with that rude feedback on a review site, they will have the customer history beforehand.
Ability to build a customer-centric approach
Today, customer loyalty is more about an emotional connection that business can produce than about a brand identity. It's not a secret that users want to get the best solutions that work uniquely for them. So, instead of selling products or services, enterprises should pay special attention to their customers' needs and expectations producing original content for a specific audience.
That is what Netflix does when recommends users movies based on their preferences or when Amazon advises clients to buy books according to their previous purchases.
Optimal content usage
Quality content comes at a high cost, especially a personalized one. Once a company gets a deeper understanding of who their clients are, how they consume content, and where they are at in the buying cycle, it's time to deliver that content. Businesses should make sure they have the necessary tools to spread content seamlessly. Digital experience platform gives an opportunity to produce and manage content across multiple channels accurately filling each of them.
Ability to optimize employee productivity
DXP is a perfect technology that can be customized according to the current company's requirements. Thus, a marketing team can easily change or upgrade a particular tool whenever they see the need. This helps not only increase productivity, but also optimize task completion time via efficient self-service and relevant information discovery. Ability to develop a solid platform for efficient campaign management makes marketing agile and allows steady growing.
Final word
A digital experience platform is an easy-to-use instrument which offers unique capabilities to help companies deliver a variety of user-facing experiences. Each DXP is managed up to the specific goals of a particular business and includes components required for achieving these goals. Let our team do what we do best, build a solid foundation for future digital improvements.
Our contact in Munich: E-Mail: vitaliy.zhovtyuk@appliedmethods.biz, Tel.: +49 176 65 0330 85, or fill out the Online Brief.
Tell us about your project