The Most Important Features of Horizontal Portal
15 November, 2018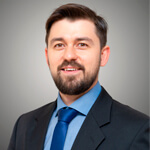 Vitaliy Zhovtyuk
CEO / Managing Director
& Founder
The Horizontal portal can be used in very different ways such as:
customer portal that provides information on customer interaction and their cooperation with company's services
digital working place of company's employee
e-commerce platform where a new product can be ordered
technology base for big and dynamic applications
But apart from these ways of using, we can define other significant features and abilities of enterprise portals. Understanding of them would be critical for portal product evaluation and building effective portal strategy.
Let's divide functional Portal Features into a few groups:
Customer collaboration — ability to work together with the customer including document management and file exchange, shared calendars, forums and message boards, blogs, chats, searching for business content and documents, corporate WIKI, image gallery;
Customer personalization — ability to personalize portal content for the specific user based on some characteristics, previous behavior or customer segment including customized content matching, alert and announcements, custom widgets, personalized dashboard, multisite support, skinning and templating;
Customer support — actionable analytics, FAQ, taxonomy, folksonomy, and classification support, call center integration, live chat with support, knowledge base;
Omnichannel support — multi-device support, mobile device apps with offline access to the portal information, channels sharing related user tracking information;
Self-service — contact book, drag & drop forms designer, adaptive workflows, polls.
As non-functional features, we can list the following groups:
Integration — integration of the portal with backend systems, legacy systems and other portals, web services, and interface integration support;
Security — information and access security;
Maintenance — technology options regarding scalability, modular architecture and cloud deployment, Enterprise Services Bus, and middleware systems integration support;
Product architecture — how product architecture is compliant with industry standards and fits with other products in the industry;
Support and product roadmap — 24/7 public roadmap availability;
Administration — administrative backend functionality of the portal;
Release and deployment support — toolset for customized components release, versioning, and deployment.
Undoubtedly, main portal advantages are an integration of backend systems and standard compliance. Such standards as WSRP, CMIS, WebDAV is a technical baseline for the portal product. This means that component developed in one portal product can be easily integrated/reused in others.
I would be glad to hear your opinion on this classification.
Tell us about your project