The Future of Voice Search: Prepare for the Voice Revolution
30 January, 2019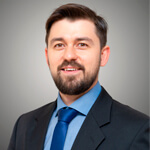 Vitaliy Zhovtyuk
CEO / Managing Director
& Founder
The revolution of voice search has already started. Are you ready for the upcoming trends?
According to Walker Sands, 19% of customers make purchases using Amazon Echo or other digital voice assistants. 33% of respondents are going to try a voice search next year.
This is happening now, but how the future of voice search will look like in a few years? In this article, I'm going to share interesting facts and predictions to help you prepare for the voice search revolution.
Modern voice search trends
Last years, 35.6 million Americans used voice-activated assistants at least once a month. Compare to 2016, that's a considerable jump of 128.9%.
According to Google research, 72% of people who own voice-activated speakers use their devices as part of an everyday routine. 41% of them consider that using voice search assistance seems like talking to a friend.
The research also shows that 52% of users are open to getting information about deals and perks from brands. 39% would like to receive options to find business information such as the actual location, working hours, etc.
65% of people who have Google Home or Amazon Echo can't imagine their life without a smart speaker anymore, says GeoMarketing.
Callers are more loyal than web leads. According to Forrester, the caller retention rate is 28% higher than web lead retention rate. In the long term, driving calls from voice searches are also more profitable.
In the 2018 holiday season, the Echo Dot became the top-selling Amazon device.
Future trends that every digital entrepreneur should know
Final word
As you can see, the popularity of voice search is rapidly increasing. No doubt, your company can capitalise on voice search and stay ahead of the competitors. Want to find out how to adapt your business to voice search? Don't miss your chance, call right now and get a special customized offer from our team.
Tell us about your project